*If you have an appointment within 2 days, please click here to take your COVID-19 screening survey*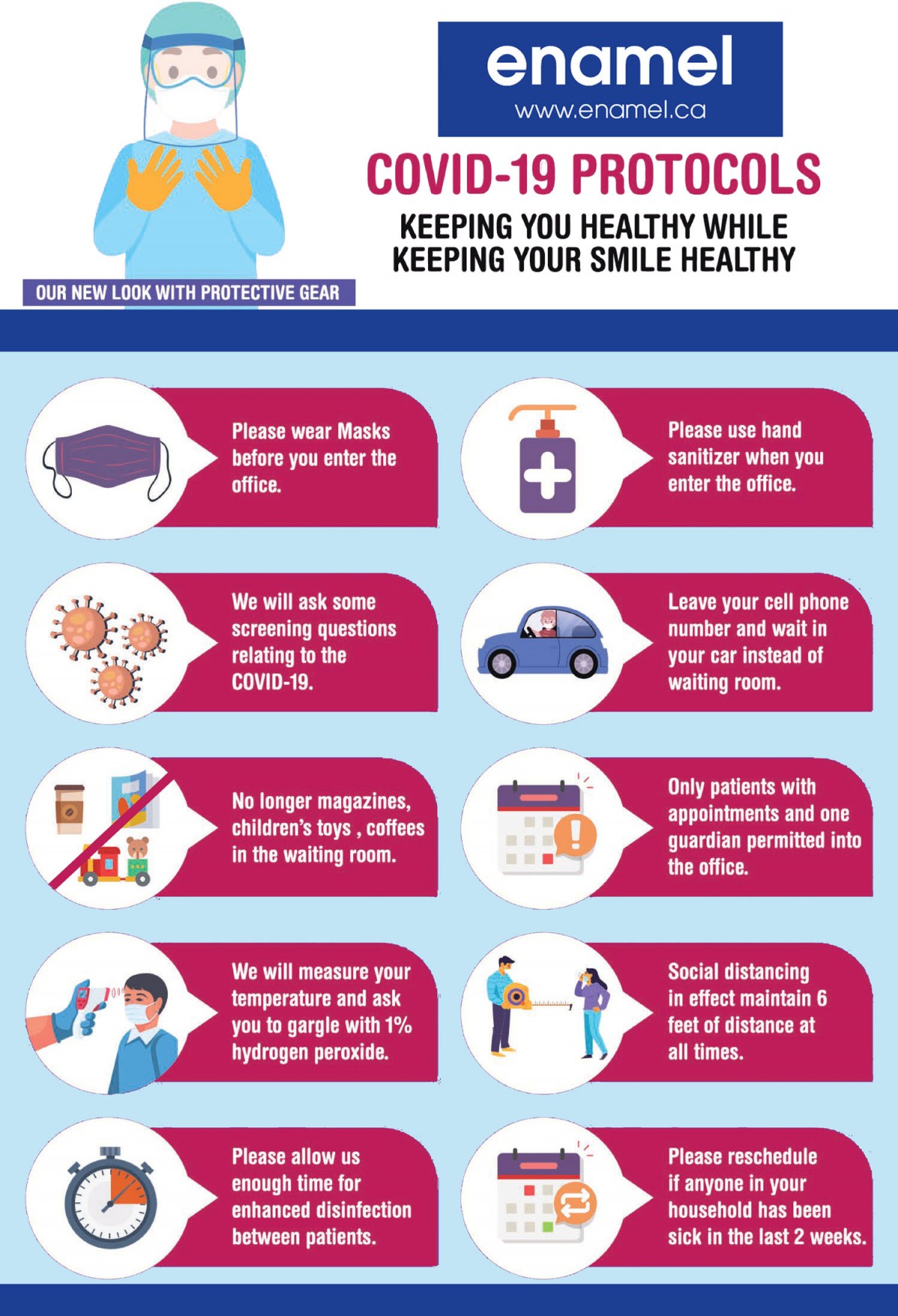 Our community has been through a lot over the last few months, and all of us are looking forward to resuming some of our normal habits and routines. While many things have changed, one thing has remained the same: our commitment to your safety and oral health. While the office was not in operation, we were busy making important changes for the "new normal".
We have:
Installed plexiglass at the front desk to protect you and our staff when safe distance cannot be always maintained
Gone complete chartless and paperless to limit items passing between treatment room and front desk
Installed comprehensive patient communication software so we can better reach our patients via email and text. You will start receiving automatic appointment reminders and emails regarding health and office policies. It is important to stay up to date with the fast changing environment we are facing nowadays
Deep clean all air ducts and our HVAC system. We have hired professional cleaners to completely sanitize the office. Install professional health grade air purifier
Upgrade our office to include up to date PPE and equipment to sanitize and limit aerosol
We have reviewed our office protocol in compliance to the guidelines issued by BC College of Dental Surgeons, BC CDC, Health Canada and Worksafe BC. Some of the main things you may see changed will be:
Our office will communicate with you beforehand to ask some screening questions. You'll be asked those same questions again when you are in the office
We are setting aside some appointment times for patients with higher risk and underlying conditions to minimize their exposure to others during this pandemic. Also in priority will be patients with soon to end dental coverage. Please let us know if you are one of them!
We have sanitizer throughout the office. We kindly ask you to wear a mask into the office. If you don't have one, don't worry, we will provide you with one
We are putting on disposable headphone coverings. If you have your own favourite headphones, bring them!
We ask you to come by yourself or only with one guardian and always maintain your social distance in the waiting room.
We welcome you to text or call the office when you arrive and we can get back to you if you should wait in the car/outside or if we are ready to seat you right away
Appointments will be managed to allow for social distancing between patients. This might mean that you are offered fewer options for scheduling your appointment
Please note that all these changes are for your safety. Our mission has always been to look after your oral health in a safe, calm and relaxing environment. We can't wait to welcome you back and hope to see you soon.
Your Enamel Team